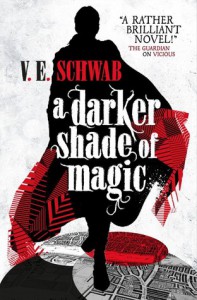 It took me a long time to write this review because I'm slightly conflicted. The logical part of my brain is saying, "I have some issues with this book." The other part of my brain is completely fangirling over wonderful adventures and Kell's fabulous coat. Seriously, I want that coat.
A Darker Shade of Magic is about a magician, Kell, who has the ability to travel between parallel Londons. When he comes in to possession of a dangerous magical stone from Black London, he teams up with a thief named Lila to destroy it.
The characters have so much personality, and it's easy to fall in love with them. The dialogue is sharp, smart, and funny. The humor feels very organic and true to the characters. It's not just forced into the story in a lame attempt to lighten the mood.
I was happy for the mood-lightening dialogue because a few of the Londons are depressing places. The world-building is impressive. The Londons are so vivid. They each have their own unique culture, language, history, and architecture. It's fascinating to read about. I think White London is my favorite because it's so creepy and different from the other Londons.
The plot is slow in the beginning, but the characters and world were more than enough to keep me interested in the story. The action picks up a lot toward the end. I read the majority of this book in one day.
I was too busy enjoying the story to come up with too many criticisms, but I do have a few. First, this book doesn't feel very original. It's just the latest blend of thieves, rare magicians, royalty, and evil magic that I've seen dozens of times before. Parts of it strongly reminded me of Harry Potter, Lord of the Rings, and His Dark Materials.
Next, I wish that the magic system had been explained better and earlier in the story. It took me a long time to figure out how the magic system works, and I'm still not sure if I totally get it.
So, is A Darker Shade of Magic a timeless work of literary genius? No. Is it thoroughly entertaining? YES! I'm eagerly awaiting the next book in the series.